The Trial of Julian Assange: A Story of Persecution
Author: Nils Melzer Publisher: Verso Books Link to buy: https://www.versobooks.com/books/3949-the-trial-of-julian-assange
From Verso Books website:
How the US and UK illegally silenced Julian Assange
In July 2010, WikiLeaks published the 'Afghan War Diary', one of the biggest leaks in US military history, including evidence for war crimes and torture. Shortly afterwards, Sweden investigated WikiLeaks founder Julian Assange for rape and a secret grand jury in the US investigated him for espionage. When both Sweden and Britain refused to guarantee that Assange would not be extradited to the US, he sought refuge in the Ecuadorian embassy in London, where he stayed for the next seven years.

When Ecuador finally turned him over to Britain in 2019, the US immediately demanded his extradition and threatened him with 175 years in prison. Nils Melzer, UN Special Rapporteur on Torture, initially declined to get involved. Only when he visited Assange in prison and researched the facts did he begin to see through the deception and recognize the case for what it really was: the story of a political persecution.

Melzer's findings are explosive: in all four states involved, Assange has faced grave and systematic due process violations, judicial bias, and manipulated evidence. He has been exposed to constant surveillance, defamation and threats. Melzer also gathered consolidated medical evidence proving that Assange has suffered prolonged psychological torture. Melzer's compelling investigation shows how—through secrecy, impunity and, crucially, public indifference—unchecked power risks annihilating Western democracy and the rule of law. The case of Julian Assange sets a chilling precedent: for when telling the truth has become a crime, we will all be living in a tyranny.
In Defense of Julian Assange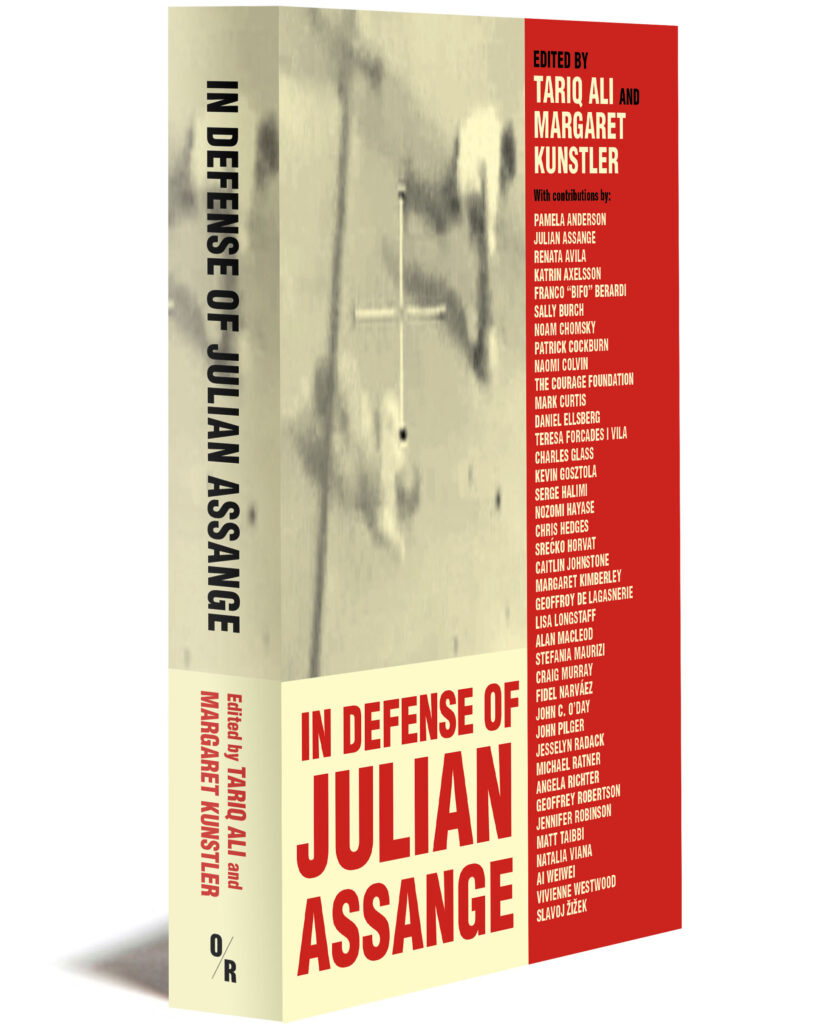 Editors: Tariq Ali and Margaret Kuntsler
Publisher: OR Books
Link to buy: https://www.orbooks.com/catalog/in-defense-of-julian-assange/
Contributors: Pamela Anderson, Julian Assange, Renata Avila, Katrin Axelsson, Franco "Bifo" Berardi, Sally Burch, Noam Chomsky, Patrick Cockburn, Naomi Colvin, The Courage Foundation, Mark Curtis, Daniel Ellsberg, Teresa Forcades i Vila, Charles Glass, Kevin Gosztola, Serge Halimi, Nozomi Hayase, Chris Hedges, Srećko Horvat, Caitlin Johnstone, Margaret Kimberley, Geoffroy de Lagasnerie, Lisa Longstaff, Alan MacLeod, Stefania Maurizi, Craig Murray, Fidel Narváez, John C. O'Day, John Pilger, Jesselyn Radack, Michael Ratner, Angela Richter, Geoffrey Robertson, Jennifer Robinson, Matt Taibbi, Natalia Viana, Ai Weiwei, Vivienne Westwood and Slavoj Žižek
Suggested Reading List
The best way to get close to and know the real Julian Assange is to view his hundreds of interviews and to read his books. Here is a compilation of his writings, books by him and about him and WikiLeaks. All are superb reading and enlighten us as to the many issues we may not have considered that affect our lives in the age of the Internet.
Cypherpunks: Freedom and the Future of the Internet
2012, 2016. By Julian Assange. Discussions with Jacob Applebaum and others. Publisher: OR Books www.orbooks.com
WIKILEAKS, The Global Fourth Estate, History is Happening
2018 By Nozomi Hayas. Recounts the history of the whistleblowing website. Available from various online book sellers.
Supernerds Conversations with Heroes
2015. By Angela Richter. In-depth interviews with well-known whistleblowers and internet activists. Publisher: Alexander Verlag Berlin
When Google Met Wikileaks
2014, 2016. By Julian Assange. Conversations between Julian Assange and Google CEO Eric Schmidt with additional reflections from Assange. Publisher: OR Books www.orbooks.com
Underground
2012. By Julian Assange and Suelette Dreyfus. The extraordinary story of the computer underground that took on the establishment. Publisher: Canongate www.canongate.co.uk
The WikiLeaks Files The World According to U.S. Empire
2015. By WikiLeaks with an introduction by Julian Assange. Documents and cables from WikiLeaks that expose government secrets. "Reveals a profound hatred of democracy on the part of our political leadership." — Noam Chomsky. Publisher: Verso Books www.versobooks.com
Related Material
Women, Whistleblowing, WikiLeaks, A Conversation
Renata Avila, Sarah Harrison and Angela Richter
2017. A conversation with three extraordinary women about digital activism and the struggle for internet freedom. Publisher: OR Books www.orbooks.com
Insurgent Truth, Chelsea Manning and the Politics of Outsider Truth-Telling
2019. By Lida Maxwell. Explores the nature of Chelsea Manning's disclosing classified documents and suggests a new paradigm for exposing truth in politics and revealing the domination and oppression that is masked. Publisher: Oxford University Press. www.oup.com