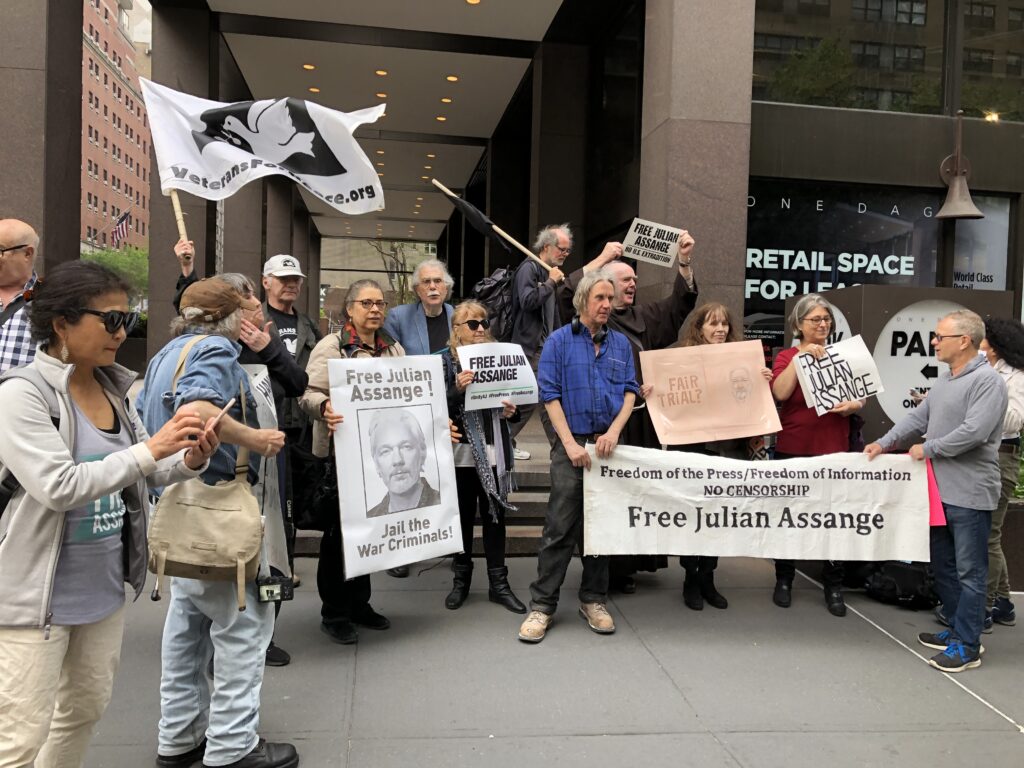 What began as participation in an International Day of Action to Free Julian Assange in front of the British Consulate in New York City on May 2, 2019, by a bunch of concerned New York area supporters, quickly evolved into a weekly Vigil to Free Julian Assange and Chelsea Manning. We gathered each Thursday from 4:30pm until 6pm at the British Consulate at 885 Second Avenue. We carried signs, handed out flyers, interacted with passersby and chanted. We were focused on stopping the U.S. from extraditing Julian Assange to face trumped up charges under the Espionage Act for publishing the truth about U.S. war crimes. Assange is facing 175 years in prison. We chant: "No Extradition!"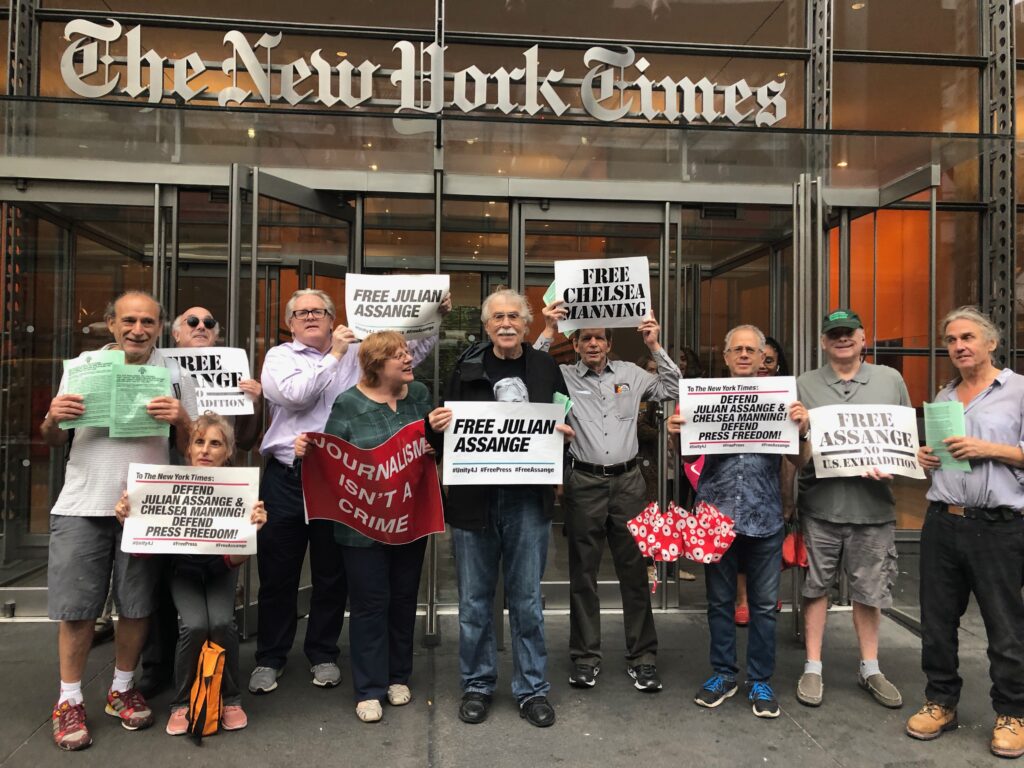 On Thursday, June 13, 2019, the Vigil to Free Julian Assange and Chelsea Manning moved to the front of the New York Times Building located on 8th Avenue and 40th Street. We wanted to be in a more heavily trafficked area, and we strongly felt that The NY Times deserved to be the recipient of our presence due to the role that it played in demonizing Assange and as journalists and publishers, not standing up for his defense. The move was quite successful in terms of engaging with the public. We handed out many more flyers than at our previous location and began to be noticed.
In August, 2019, it was decided that it would make sense for the people putting on the weekly Vigil to Free Julian Assange and Chelsea Manning to have a name. We met and decided to call ourselves NYC Free Assange. We created a presence on Facebook and Twitter and developed a members' mailing list. We continued to have the weekly vigils at The NY Times building.
As the New Year began, NYC Free Assange moved the weekly Vigil to Free Julian Assange and Chelsea Manning inside Grand Central Terminal at the main concourse by the information booth and clock, from 4:30pm until 5:30pm. It was a great success in reaching more people with the message. We remained there until the need to cease, temporarily we hope, due to the COVID-19 pandemic.
In addition to the weekly vigils, NYC Free Assange was also active in working for important events in support of Julian Assange.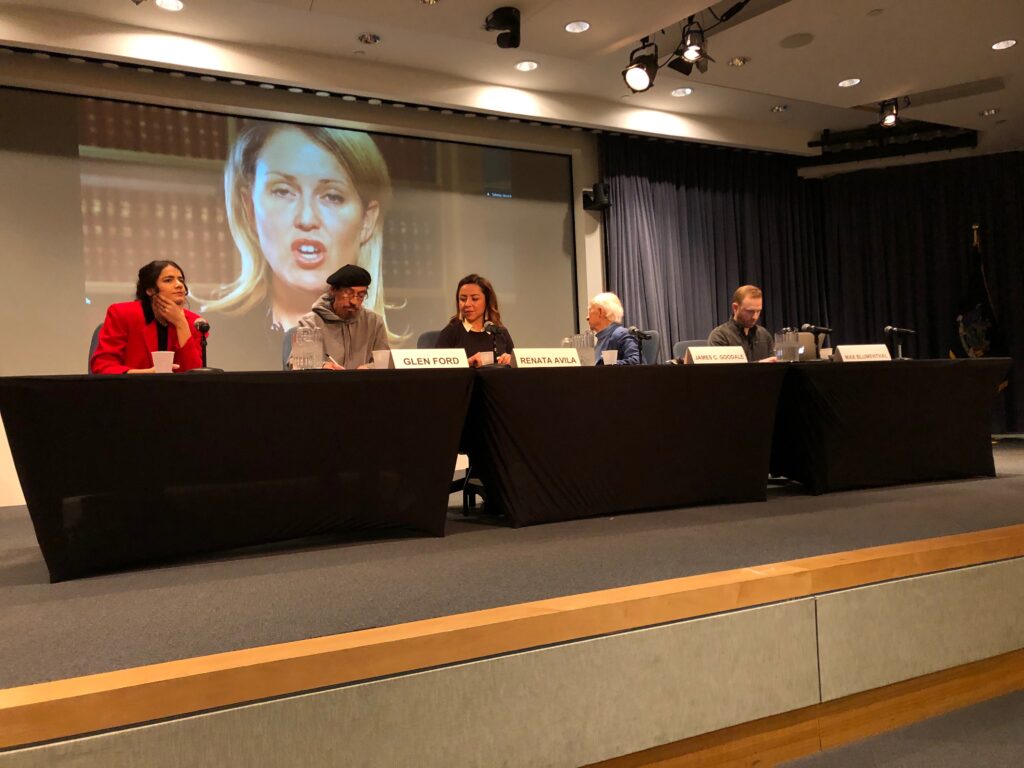 On February 15, 2020, NYC Free Assange played an active role in planning and working on the event: Prosecution of Julian Assange: His Right to Publish is Our Right to Know held at CUNY Law School that featured panelists: Renata Avila, Glen Ford, and Max Blumenthal; and moderated by Anya Parampil. The event was organized by the Courage Foundation.
NYC Free Assange was the organizing sponsor of the February 24, 2020 Global Day of Protest in New York City: Don't Extradite Assange!, in front of the British Consulate. Speakers included: Deborah Hrbek, media lawyer and member of WikiLeaks legal team; Margaret Kunstler, civil rights lawyer and co-editor of In Defense of Julian Assange; Ben Norton, journalist, The Grayzone; John F. O'Donnell, actor and writer; Kim Ives, writer and editor of Haiti Liberté; Michael Smith, co-host of Law and Disorder.
NYC Free Assange is committed to continuing to work for the freedom of Julian Assange and to stop his extradition to the United States.