I'll be hosting a panel discussion with Noam Chomsky, Marjorie Cohn, and Daniel Ellsberg
By Kevin Gosztola
***After a holiday break, this newsletter will resume publication with coverage of the extradition ruling in WikiLeaks founder Julian Assange's case on January 4, as well as exclusive posts for subscribers.***

I am credentialed to cover Julian Assange's extradition decision hearing remotely and will send out coverage after the hearing on Monday, January 4.

Additionally, that same day the Assange Defense Committee and Shadowproof will co-host a panel event with author/historian Noam Chomsky, former National Lawyers Guild president Marjorie Cohn, and Pentagon Papers whistleblower Daniel Ellsberg.

It will stream at 3pm ET/8 pm London Time on Zoom, YouTube, WBAI radio, and social media. 

To RSVP, go to: https://is.gd/AssangeVerdict

The panel event will feature reactions to Judge Vanessa Baraitser's ruling and offer deeper context for the outcome. We will take questions and comments in the second hour. 

Assange was charged in April 2019 with 17 counts of violating the Espionage Act and one count of conspiracy to commit a computer intrusion that contains elements of an Espionage Act offense. He is detained at the Belmarsh high-security prison in London.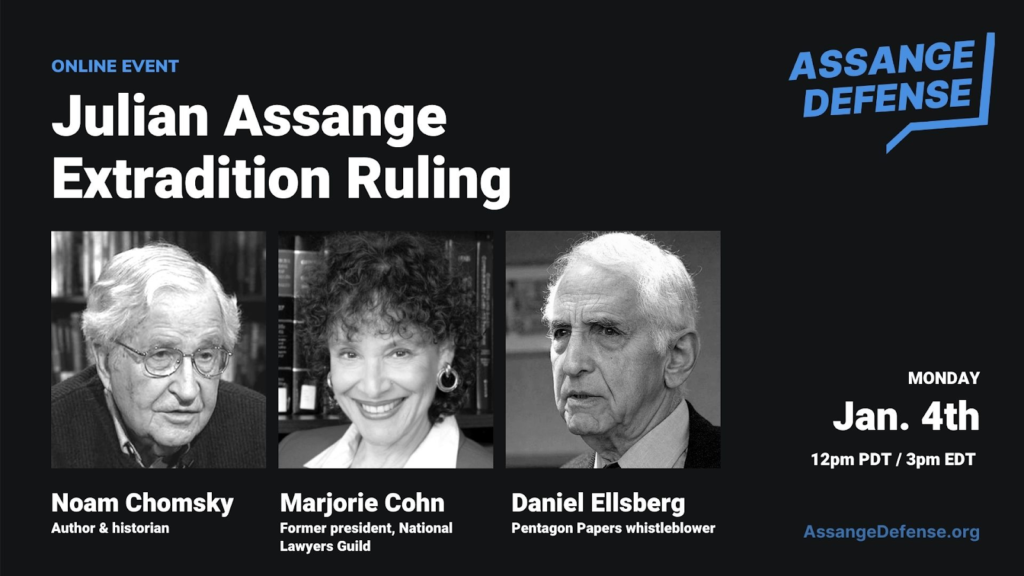 Charges against Assange generally criminalize the act of receiving classified information, as well as the publication of state secrets from the U.S. government. It targets common practices in newsgathering, which is why the case is widely opposed by press freedom organizations throughout the world.
original article here:
https://tinyurl.com/y8qfgkxf